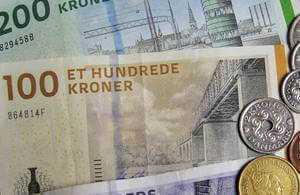 Countries that use the Danish Krone
The Danish Krone was established in 1875 as an official national currency and is used only in Greenland and in Denmark. 1 Krone is devided into 100 øre.
The Danish Krone is tied to the
Euro
with a fixed exchange rate. Therefore, 1 Krone always equals to 0.1340 Euro.
ISO 4127:
DKK
Numeric:
208
Symbol:
kr
List of all currencies
Exchange rate history 10 DKK in USD
The graph shown here shows the exchange rate development from Januar 2015 to Oktober 2021. The exchange rate for 10 DKK developed during this time from USD 1.50 to USD 1.55. In these 82 months it rose by 3.2%.



Danish Krone as currency
Currencies with a fixed exchange rate to the Danish Krone
Currency reserves for the Danish Krone
According to the International Monetary Fund, the total broad money (M3) amounted to DKK 1,575.80 bn at the end of 2020 (data only for Denmark). For currency hedging, reserves were held in a total amount of 476.42 bn Krones. This corresponds to a ratio of 1:3.3. Or in other words: 1 of 3 Krones is deposited with a countervalue, which is internationally already above average.
Approximately 26.5 bn Krones (5.6%) of the currency reserves exist in gold reserves, the remainder consists of foreign currencies, special drawing rights in the International Monetary Fund and other reserve positions.
›
Worldwide currency and gold reserves