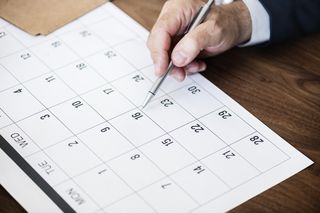 Public holidays in New Zealand
The New Zealand holidays are based on the Christian holidays. Pentecost is not celebrated. Unlike many other countries, New Zealand has a special feature: if a public holiday falls on a weekend, the following Monday is a day off.
In addition to the national public holidays, each province of New Zealand also has its own holiday, which it may determine for itself. These days are also called Provincial Anniversary Days.
Back to overview: New Zealand
Non-floating holidays
Non-statutory holidays are written in gray.
| Date | Holiday |
| --- | --- |
| Jan. 1st | New Year's Day |
| Feb. 6th | National Holiday Waitangi |
| April 25th | Battle of Gallipoli |
| Oct. 31st | Halloween |
| Nov. 5th | Guy Fawkes Night |
| Dec. 24th | Christmas Eve |
| Dec. 25th | Christmas Day |
| Dec. 26th | Boxing Day |
| Dec. 31st | New Year's Eve |
Moving Holidays in New Zealand
| Holiday | 2023 | 2024 | 2025 | 2026 | 2027 |
| --- | --- | --- | --- | --- | --- |
| Good Friday | April 7th | March 29th | April 18th | April 3rd | March 26th |
| Easter Sunday | April 9th | March 31st | April 20th | April 5th | March 28th |
| Easter Monday | April 10th | April 1st | April 21st | April 6th | March 29th |
| Mother's Day | May 14th | May 12th | May 11th | May 10th | May 9th |
| Whit Sunday | May 28th | May 19th | June 8th | May 24th | May 16th |
| Whit Monday | May 29th | May 20th | June 9th | May 25th | May 17th |
| Birthday of the king | June 5th | June 3rd | June 2nd | June 1st | June 7th |
| Corpus Christi | June 8th | May 30th | June 19th | June 4th | May 27th |
| Father's Day | Sept. 3rd | Sept. 1st | Sept. 7th | Sept. 6th | Sept. 5th |
| Labor Day | Oct. 23rd | Oct. 28th | Oct. 27th | Oct. 26th | Oct. 25th |