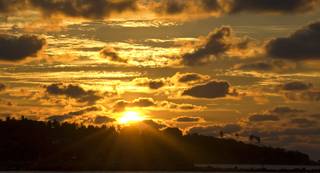 Sunrise and sunset in Thailand
Sunrise today: 6:44 h
Sunset today: 18:17 h
(Times for Bangkok)
Sunrise and sunset do not differ significantly in Thailand during the whole year. The reason for this is the proximity to the equator, which is only about 1500 km south of Bangkok. Thus the sun commutes in the summer months to the north and in the winter to the south, without moving away too much. In the Nordic countries like Finland and Sweden the difference is much more extreme.
With up to 13 hours the longest days in Bangkok are in June. The shortest days, on the other hand, are on average only 100 minutes shorter in December, but start around 60 minutes later.
During these days, the sun in Bangkok rises at 6:44. The Sunset can currently be watched at about 18:17 in the early evening.
Back to overview: Thailand
Average length of day in Bangkok

sunshine duration

twilight phase
Sunrise and sunset in the most important cities of Thailand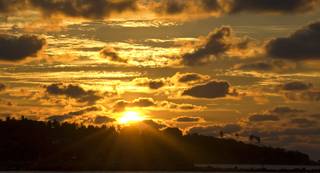 The cities are ordered by their geographic position from east to west, so in an approximate direction of the sun's course. Since the orbit around the sun is elliptical, sunrise or sunset never happen on a whole longitude at the same time. All data given for January 28th., localtime in Thailand
| City | Sunrise | Sunset | Hours of daylight |
| --- | --- | --- | --- |
| Kalasin | 06:36 am | 06:01 pm | 11:25 h |
| Buriram | 06:35 am | 06:04 pm | 11:29 h |
| Saraburi | 06:43 am | 06:14 pm | 11:30 h |
| Samut Prakan | 06:43 am | 06:16 pm | 11:33 h |
| Songkhla | 06:35 am | 06:25 pm | 11:50 h |
| Phra Nakhon Si Ayutthaya | 06:45 am | 06:15 pm | 11:31 h |
| Pathum Thani | 06:44 am | 06:16 pm | 11:32 h |
| Mueang Nonthaburi | 06:44 am | 06:16 pm | 11:32 h |
| Bangkok | 06:44 am | 06:17 pm | 11:33 h |
| Pak Kret | 06:44 am | 06:16 pm | 11:32 h |
| Samut Sakhon | 06:45 am | 06:18 pm | 11:33 h |
| Nakhon Sawan | 06:48 am | 06:15 pm | 11:27 h |
| Nakhon Si Thammarat | 06:39 am | 06:26 pm | 11:47 h |
| Chiang Rai | 06:55 am | 06:11 pm | 11:15 h |
| Ratchaburi | 06:46 am | 06:20 pm | 11:33 h |
When does the sun rise in Thailand?
In the summer months the sun rises shortly after 6 o'clock and sets around 18:40 again. In the tourist high season from December to February the days are a little shorter. Then the day begins at 6:45 o'clock at the latest and ends between 18:10 and 18:30 o'clock. The short phases of the twilight are in need of getting used to. In less than half an hour the sun disappears behind the horizon.
A high sun protection factor is mandatory
Who once was allowed to enjoy the Thai sun, will have already made his own experiences. The sun burns hot from the sky and already in the early morning hours some get a hearty sunburn.
The local Thais do it well and rarely expose themselves to the blazing sun. Admittedly, this has mainly aesthetic reasons, because sun tan is frowned upon as in many Southeast Asian countries. But a high sun protection factor is often taken. Small children are hidden behind thick layers of talc creams. Long shirts, headgear and even umbrellas seem strange to unneeded foreigners. But they have a meaning. At noon the sun is up to 150 times stronger than in the morning or evening.
11 hours of sunshine a day
Unlike the length of day (the time between sunrise and sunset), the number of hours of sunshine indicates how long the sun can actually be seen despite clouds. In the region around the seaside resort Phuket, up to 11 hours of sunshine per day are reached in February. In the extreme north of Thailand it is still 8.5 hours at Chiang Rai. During the rainy season from June to September this duration drops to about half.
Sunrise and sunset by month (Bangkok)
Month
Sunrise
Sunset
Hours of daylight
January
06:44 am
06:10 pm
11:26 h
February
06:40 am
06:24 pm
11:44 h
March
06:24 am
06:29 pm
12:05 h
April
06:03 am
06:32 pm
12:28 h
May
05:50 am
06:38 pm
12:48 h
June
05:49 am
06:47 pm
12:58 h
July
05:56 am
06:51 pm
12:54 h
August
06:03 am
06:41 pm
12:38 h
September
06:05 am
06:20 pm
12:15 h
October
06:07 am
06:00 pm
11:53 h
November
06:16 am
05:48 pm
11:32 h
December
06:32 am
05:53 pm
11:22 h
Where does the sun rise in Thailand?
The sun always rises in the east, everywhere and regardless of the country or continent. The easternmost city in Thailand is Phibun Mangsahan in Region Isarn. There, the sun rises at 6:27 am and sets at 5:56 pm these days. The latest sunset is currently experienced in the west in the city of Mae Hong Son (Northern Thailand) at 18:19.
Duration of the sunset
The distance from the equator and the path of the sun determines not only the time of sunrise and sunset. The farther a country is from the equator, the more oblique the sun's path is to the horizon, causing sunset to last for a different duration. Bangkok lies on the 14th degree of northern latitude and thus a good distance from the equator.While a sunset in the northern USA or central Europe can take almost an hour, in Thailand, it lasts only an average of 25 minutes. In June, it's about 25 minutes in Bangkok, while in December it's 24 minutes.
International cities for comparison