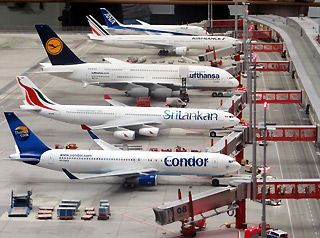 The largest airports in the USA
The USA is in many respects a country of gigantomania. Thus, US airports are often a bit larger than in other countries. Even the term "aeorodrome" used in American suggests sheer size. In the statistics of international aviation organizations, numerous U.S. airports regularly appear among the world's largest, and the figures for passengers and cargo handled are quite impressive. Year after year, a significant portion of the top lists consists of U.S. airports. It is estimated that U.S. airports handle half of the world's air traffic.
Oldest airport in the world: College Park, Maryland
In fact, the history of aviation also began in the United States. The Wright brothers founded the world's first airport in College Park, Maryland, in 1909. In 1911, the first civilian flight took place from there. To this day, the airport has been in operation without interruption. With only one runway of 2607 feet in length, it does not play a significant role in international air traffic. However, the aviation museum, which has been attached to the airport since 1981, has regularly attracted numerous aviation enthusiasts since its opening. Among other things, the museum has its own hangar with 10 historic airplanes and helicopters.
Entering the USA
Those wishing to enter the USA from abroad first have to overcome a few hurdles. Entry is possible either with a visa or the electronic entry permit "ESTA". The passport is not sufficient. While the visa must be applied for in advance, ESTA is much easier in theory. Once issued, it allows any number of entries of up to 90 days each over a period of 2 years. But the ESTA must also be issued in advance, otherwise already the airlines will refuse the departure in the home country.
The controls at US airports are known to take comparatively long and to be stricter than in many other countries. One of the reasons for this is that officials are given much more extensive discretionary powers. For example, the border official himself can decide to refuse or shorten a visa that has already been issued after all. Questioning and searches of cell phones and laptops have been permitted at any time for years for security reasons.
Particularly fast passage through the immigration counters is possible in Boston, Dallas, Denver, Pittsburgh, San Francisco and Washington. Significantly more time should be allowed in Los Angeles, Miami and at JFK New York.
Freight volume
In 2020, a total of 40.79 billion ton-kilometers of cargo was moved by air in the United States (= total mass transported in tons multiplied by kilometers traveled). John F Kennedy International Airport alone accounted for around 1.46 million metric tons.
The 30 biggest airlines based in the United States
| IATA | Name | Destinations |
| --- | --- | --- |
| AA | American Airlines | 432 |
| UA | United Airlines | 430 |
| DL | Delta Air Lines | 351 |
| US | US Airways | 337 |
| AS | Alaska Airlines | 137 |
| G4 | Allegiant Air | 95 |
| WN | Southwest Airlines | 95 |
| FL | AirTran Airways | 93 |
| 7H | Era Alaska | 92 |
| B6 | JetBlue Airways | 86 |
| F9 | Frontier Airlines | 84 |
| NK | Spirit Airlines | 54 |
| 9K | Cape Air | 39 |
| BK | Potomac Air | 38 |
| HA | Hawaiian Airlines | 31 |
| ZK | Great Lakes Airlines | 29 |
| 8E | Bering Air | 29 |
| W3 | World Scale Airlines | 29 |
| 9E | Pinnacle Airlines | 25 |
| 3M | Silver Airways (3M) | 25 |
| K5 | SeaPort Airlines | 21 |
| VX | Virgin America | 21 |
| SY | Sun Country Airlines | 18 |
| BB | Seaborne Airlines | 18 |
| KS | Peninsula Airways | 14 |
| S5 | Shuttle America | 13 |
| M5 | Kenmore Air | 12 |
| QH | Air Florida | 12 |
| TJ | T.J. Air | 9 |
| J5 | Alaska Seaplane Service | 9 |