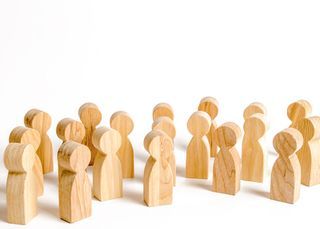 Population growth on the Turks and Caicos Islands
From 1960 to 2020 the population of the Turks and Caicos Islands increased from 5,726.00 to 38,718.00 people. This is a growth by
576.2 percent in 60 years
. The highest increase on the Turks and Caicos Islands was recorded in 1979 with 7.94%. The biggest decrease in 1966 with -0.76%.
In the same period, the total population of all countries worldwide increased by 155.5 percent.
Around 94% of the inhabitants live in the country's larger cities. This growing trend of urbanization is increasing by 1.6% annually.
›
Population growth in worldwide comparison
Back to overview: Turks and Caicos Islands
Population development on the Turks and Caicos Islands since 1960
(Data given in 1000 inhabitants)
Year
Population
Turks and Caicos Islands
Change
Birthrate
Deathrate
Population
World
Change
1961
6,000
0.65 %
3,075 M
1.35 %
1962
6,000
0.00 %
3,128 M
1.72 %
1963
6,000
-0.40 %
3,193 M
2.07 %
1964
6,000
-0.52 %
3,258 M
2.05 %
1965
6,000
-0.67 %
3,325 M
2.05 %
1966
6,000
-0.76 %
3,395 M
2.10 %
1967
6,000
-0.69 %
3,464 M
2.05 %
1968
6,000
-0.55 %
3,535 M
2.03 %
1969
6,000
0.22 %
3,609 M
2.11 %
1970
6,000
1.11 %
3,685 M
2.09 %
1971
6,000
2.18 %
3,762 M
2.10 %
1972
6,000
2.88 %
3,839 M
2.04 %
1973
6,000
3.44 %
3,915 M
1.98 %
1974
6,000
3.59 %
3,991 M
1.96 %
1975
7,000
3.18 %
4,066 M
1.87 %
1976
7,000
2.67 %
4,139 M
1.79 %
1977
7,000
2.42 %
4,212 M
1.75 %
1978
7,000
2.43 %
4,286 M
1.75 %
1979
8,000
7.94 %
4,358 M
1.68 %
1980
8,000
3.61 %
4,434 M
1.75 %
1981
8,000
4.40 %
4,512 M
1.76 %
1982
9,000
5.09 %
4,593 M
1.80 %
1983
9,000
5.20 %
4,675 M
1.78 %
1984
10,000
4.96 %
4,757 M
1.75 %
1985
10,000
4.33 %
4,840 M
1.75 %
1986
10,000
3.88 %
4,926 M
1.77 %
1987
11,000
3.54 %
5,014 M
1.78 %
1988
11,000
3.44 %
5,102 M
1.77 %
1989
12,000
4.10 %
5,191 M
1.74 %
1990
12,000
4.88 %
5,281 M
1.74 %
1991
13,000
5.78 %
5,369 M
1.66 %
1992
14,000
6.41 %
5,453 M
1.57 %
1993
15,000
6.56 %
5,538 M
1.56 %
1994
15,000
6.06 %
5,623 M
1.52 %
1995
16,000
5.25 %
5,708 M
1.51 %
1996
17,000
4.38 %
5,790 M
1.45 %
1997
18,000
3.79 %
5,873 M
1.43 %
1998
18,000
3.79 %
5,955 M
1.39 %
1999
19,000
4.57 %
6,035 M
1.35 %
2000
20,000
5.76 %
6,115 M
1.32 %
2001
22,000
6.99 %
6,194 M
1.30 %
2002
23,000
7.69 %
6,274 M
1.28 %
2003
25,000
7.66 %
6,353 M
1.26 %
2004
27,000
6.75 %
6,432 M
1.25 %
2005
28,000
5.54 %
6,513 M
1.25 %
2006
29,000
4.30 %
6,594 M
1.24 %
2007
30,000
3.38 %
6,675 M
1.24 %
2008
31,000
2.69 %
6,758 M
1.24 %
2009
32,000
2.35 %
6,841 M
1.22 %
2010
33,000
2.27 %
6,922 M
1.19 %
2011
33,000
2.18 %
7,003 M
1.17 %
2012
34,000
2.09 %
7,086 M
1.18 %
2013
35,000
1.95 %
7,170 M
1.18 %
2014
35,000
1.84 %
7,254 M
1.18 %
2015
36,000
1.72 %
7,339 M
1.17 %
2016
37,000
1.61 %
7,424 M
1.16 %
2017
37,000
1.53 %
7,509 M
1.14 %
2018
38,000
1.48 %
7,592 M
1.11 %
2019
38,000
1.40 %
7,673 M
1.07 %
2020
39,000
1.37 %
7,753 M
1.04 %