Puerto Rico
Presidential democracy (unincorporated territory of the US)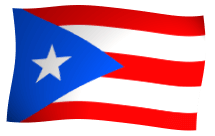 Official:
Commonwealth of Puerto Rico
Local name:
Puerto Rico
Region:
Caribbean
Area:
8,870 km²
Capital:
San Juan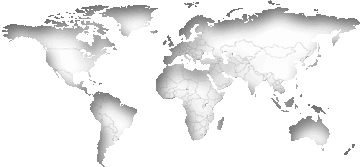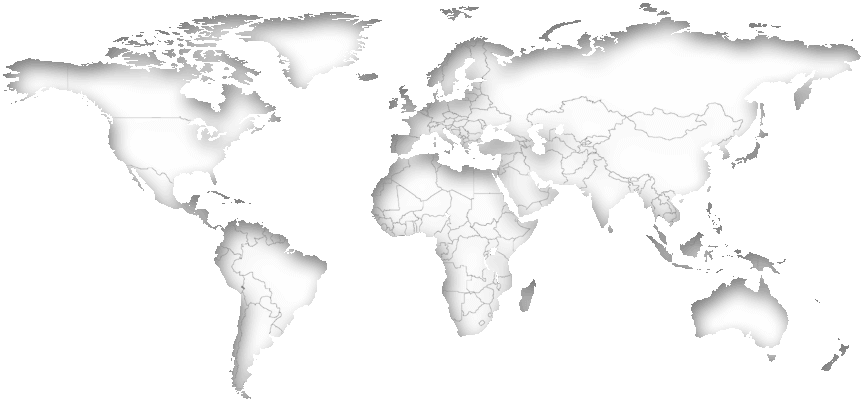 Geography
Puerto Rico is an island state in the Caribbean and is the smallest and easternmost country in the Greater Antilles. The land has a total area of 8,870 km² (3,425 mi²) and a total coastline of 501 km (311.3 mi). This land area is approximately 138% of the area of Delaware. Puerto Rico is thus the 26th smallest country in the Americas and ranked 171st in the world. An exceptionally high proportion of residents (94%) belongs to the urban population. Every tenth inhabitant lives in San Juan alone.

Puerto Rico is comparatively low at an average elevation of 261 meters above sea level. The island group consists of 143 islands. Puerto Rico has no direct neighbors. The distance between New York City and the Capital San Juan is about 2,590 km (1,609 mi).

On further pages:

Current time in Puerto Rico:

00:00

January 2023

The countrywide time in Puerto Rico is

Atlantic Standard Time (AST)

.

As in many countries, there is no daylight savings time in Puerto Rico.

Related to Greenwich Mean Time, there's the same difference of -4 hours all over the year.

Sunrise and sunset
Population
Life expectancy females:
Ø 82.6 years
Males/Females:
47.3% : 52.7%
Population pyramid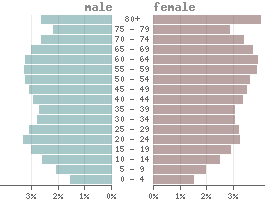 The currency in Puerto Rico is
the US dollar (USD).
1 Dollar is divided into 100 Cents.
Status: 01/20/2023
1 Euro = 1.08 Dollars
1 Dollar = 0.92 Euro
The climate in Puerto Rico
In Puerto Rico, as in all equatorial countries, there is a tropical climate. Unlike in Europe or the USA, there is almost no difference between the seasons. The daylight hours vary little, and the temperature differences between summer and winter are also lower. Depending on the season, the average daytime temperatures range between 29 and 32 degrees. In the colder months, the average night temperatures drop down to 22 °C.
Average daytime and nighttime temperatures


Languages
Official language:
Spanish
more...
Economy
In terms of revenues, the Philippines ranks only 45th in the world and, with an
average annual income
of 22,580 USD is one of the high-income countries.
Land use
| | |
| --- | --- |
| 96% Urban areas: | 8,511 km² |
| 22% Agricultural areas: | 1,977 km² |
| 56% Forest: | 4,964 km² |
Transport
Most important cities
| City | Region | Population |
| --- | --- | --- |
| San Juan / Capital | Metro | 337,000 |
| Bayamón | Metro | 180,000 |
| Carolina | Metro | 154,000 |
| Ponce | South | 141,000 |
| Caguas | East | 130,000 |
| Guaynabo | Metro | 81,000 |
| Mayagüez | West | 79,000 |
| Trujillo Alto | Metro | 54,000 |
| Arecibo | North | 49,000 |
| Fajardo | East | 34,000 |
| Levittown | Metro | 30,000 |
| Vega Baja | North | 29,000 |
| Cataño | Metro | 28,000 |
| Barceloneta | North | 22,000 |
| Guayama | South | 22,000 |
| Humacao | East | 20,000 |
| Yauco | West | 20,000 |
| Adjuntas | Central | 19,000 |
| Cayey | Central | 18,000 |
| Manatí | North | 16,000 |
| Aguadilla | West | 16,000 |
| Río Grande | East | 13,000 |
| Dorado | North | 13,000 |
| Isabela | West | 13,000 |
| San Germán | West | 12,000 |
| Vega Alta | North | 12,000 |
| Coamo | South | 12,000 |
| Hormigueros | West | 12,000 |
Political indicators
(Based on the "Worldwide Governance Indicators" project of the World Bank)
| | |
| --- | --- |
| Political stability: | ◈ |
| Rule of law: | ◈ |
| Effectivity: | ◈ |
| Regulatory quality: | ◈ |
| Voice accountability: | ◈ |
| Death penalty: | constitutionally allowed |