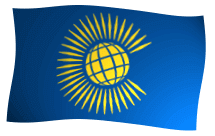 Member states of the Commonwealth of Nations
The 52 states of the Commonwealth of Nations are basically an association of countries of the former British Empire. It was founded in 1931, when the largest and most influential former colonies, Canada, South Africa, Australia and New Zealand, were to become independent of the British Crown.

The 52 current members of the Commonwealth of Nations cover an area of 31.51 million km² on all continents with a population of around 2.63 billion. This corresponds to 20.85 percent of all land masses and 33.31 percent of the world population.


Official website: https://thecommonwealth.org/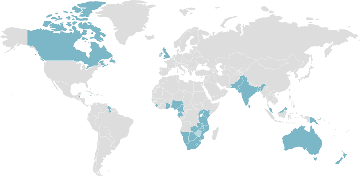 | Country | Commencement | Population | Area |
| --- | --- | --- | --- |
| Antigua and Barbuda | 1981 | 0.09 M | 440 km² |
| Australia | 1931 | 25.69 M | 7,741,000 km² |
| Bahamas | 1973 | 0.41 M | 14,000 km² |
| Bangladesh | 1972 | 169.36 M | 148,000 km² |
| Barbados | 1966 | 0.28 M | 430 km² |
| Belize | 1981 | 0.40 M | 23,000 km² |
| Botswana | 1966 | 2.59 M | 582,000 km² |
| Brunei | 1984 | 0.45 M | 5,770 km² |
| Cameroon | 1995 | 27.20 M | 475,000 km² |
| Canada | 1931 | 38.25 M | 9,985,000 km² |
| Cyprus | 1961 | 1.24 M | 9,250 km² |
| Dominica | 1978 | 0.07 M | 750 km² |
| Eswatini | 1968 | 1.19 M | 17,000 km² |
| Gambia | 1965 | 2.64 M | 11,000 km² |
| Ghana | 1957 | 32.83 M | 239,000 km² |
| Grenada | 1974 | 0.12 M | 340 km² |
| Guyana | 1966 | 0.80 M | 215,000 km² |
| India | 1947 | 1,407.56 M | 3,287,000 km² |
| Jamaica | 1962 | 2.83 M | 11,000 km² |
| Kenya | 1963 | 53.01 M | 580,000 km² |
| Kiribati | 1979 | 0.13 M | 810 km² |
| Lesotho | 1966 | 2.28 M | 30,000 km² |
| Malawi | 1964 | 19.89 M | 118,000 km² |
| Malaysia | 1957 | 33.57 M | 330,000 km² |
| Malta | 1964 | 0.52 M | 320 km² |
| Mauritius | 1968 | 1.27 M | 2,040 km² |
| Mozambique | 1995 | 32.08 M | 786,000 km² |
| Namibia | 1990 | 2.53 M | 824,000 km² |
| Nauru | 1999 | 0.01 M | 21 km² |
| New Zealand | 1931 | 5.12 M | 268,000 km² |
| Nigeria | 1960 | 213.40 M | 924,000 km² |
| Pakistan | 1947 | 231.40 M | 796,000 km² |
| Papua New Guinea | 1975 | 9.95 M | 463,000 km² |
| Rwanda | 2009 | 13.46 M | 26,000 km² |
| Saint Kitts and Nevis | 1983 | 0.05 M | 260 km² |
| Saint Lucia | 1979 | 0.18 M | 620 km² |
| Saint Vincent and the Grenadines | 1979 | 0.10 M | 390 km² |
| Samoa | 1970 | 0.22 M | 2,840 km² |
| Seychelles | 1976 | 0.10 M | 460 km² |
| Sierra Leone | 1961 | 8.42 M | 72,000 km² |
| Singapore | 1965 | 5.45 M | 719 km² |
| Solomon Islands | 1978 | 0.71 M | 29,000 km² |
| South Africa | 1931 | 59.39 M | 1,219,000 km² |
| Sri Lanka | 1948 | 22.16 M | 66,000 km² |
| Tanzania | 1961 | 63.59 M | 947,000 km² |
| Tonga | 1970 | 0.11 M | 750 km² |
| Trinidad and Tobago | 1962 | 1.53 M | 5,130 km² |
| Tuvalu | 1978 | 0.01 M | 26 km² |
| Uganda | 1962 | 45.85 M | 242,000 km² |
| United Kingdom | 1931 | 67.33 M | 244,000 km² |
| Vanuatu | 1980 | 0.32 M | 12,000 km² |
| Zambia | 1964 | 19.47 M | 753,000 km² |
Origins of the Commonwealth of Nations
The Commonwealth of Nations dates back to the British Empire, which consisted of more and more colonies and occupied territories from the 15th to the early 20th century. In 1922 it had 458 million inhabitants worldwide. At that time, this corresponded to a quarter of the world's population on a quarter of the entire earth. After the end of the First World War, the four largest colonies allied themselves with the kingdom, although they were already considered sovereign states. The first four partners were initially referred to as "Dominions," and, since 1952, as "Commonwealth Realms." Over the years, more and more countries were added, almost all of which were once an English colony or at least a territory occupied by England. The only exceptions are Mozambique and Rwanda.
The Commonwealth of Nations sees itself more as a partnership than as a contractually binding construct. All states of today's Commonwealth of Nations are sovereign states and not interdependent. They commit themselves to common loyalty to the British Crown. Originally, this was also the only part of the treaty promised. It was quite possible that the member countries themselves even had an autocratic government. In Australia, New Zealand and Canada, the British royal house was adopted and referred to as the "Queen of Australia" (or Canada and New Zealand), which meant Queen Elizabeth II, who held office from 1952 to 2022. The symbolic head of the Commonwealth is always the head of the British Crown, currently King Charles III. Thus, the administrative seat of the Commonwealth is always in London.
Until 1962, all Commonwealth citizens were considered British citizens and were therefore able to immigrate to the United Kingdom and receive British citizenship.
Former member countries
Dependent territories
Some of the above-mentioned member states have other external territories dependent on them. These are not independent states, but they do have some economic and political autonomy. The Commonwealth of Nations treaties apply to them at least in part. These countries are not listed as official member states.
| Country | Region | Dependency |
| --- | --- | --- |
| Anguilla | Caribbean | Self-governing territory of the United Kingdom |
| Bermuda | North America | Self-governing territory of the United Kingdom |
| British Indian Ocean Territory | Eastern Africa | Territory of the United Kingdom |
| British Virgin Islands | Caribbean | Self-governing territory of the United Kingdom |
| Cayman Islands | Caribbean | Self-governing territory of the United Kingdom |
| Christmas Island | Australia/New Zealand | Non-self-governing territory of Australia |
| Cocos Islands | Australia/New Zealand | Non-self-governing territory of Australia |
| Falkland Islands | South America | Self-governing territory of the United Kingdom |
| Gibraltar | Southern Europe | Self-governing territory of the United Kingdom |
| Guernsey | Northern Europe | Autonomous Crown Dependency of the United Kingdom |
| Heard and McDonald | Australia/New Zealand | Territory of Australia |
| Isle of Man | Northern Europe | Autonomous Crown Dependency of the United Kingdom |
| Jersey | Northern Europe | Autonomous Crown Dependency of the United Kingdom |
| Montserrat | Caribbean | Self-governing territory of the United Kingdom |
| Norfolk Island | Australia/New Zealand | Territory of Australia |
| Pitcairn Islands | Polynesia | British overseas territory |
| Saint Helena | Western Africa | Limited self-governing territory of the United Kingdom |
| South Georgia | South America | Territory of the United Kingdom |
| Tokelau | Polynesia | Territory of New Zealand |
| Turks and Caicos Islands | Caribbean | Self-governing territory of the United Kingdom |