Zimbabwe
Semi-presidential republic
Independent since 1980


Official:
Republic of Zimbabwe
Local name:
Zimbabwe
Region:
Eastern Africa
Area:
390,760 km²
Capital:
Harare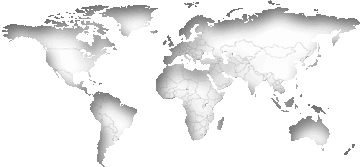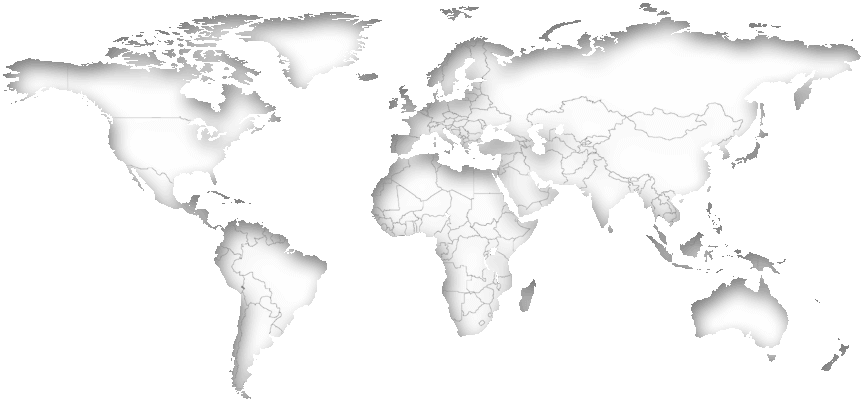 Geography
Zimbabwe is a landlocked country in the south-east of Africa. The land has a total area of 390,760 km² (150,873 mi²). This land area is approximately 97% of the area of California. Zimbabwe is thus the 26th biggest country in Africa and in terms of area ranked 61st worldwide. Most of the population (68%) resides within rural regions.
Zimbabwe is comparatively high at an average elevation of 961 meters above sea level. The highest mountain peak (Inyangani) is at 2,592 meters. There is no access to the open sea. There are direct national borders with the four neighboring countries
Botswana
,
Mozambique
,
South Africa
and
Zambia
. The distance between New York City and the Capital Harare is about 12,550 km (7,798 mi).
On further pages:
Current time in Zimbabwe:
00:00
May 2023
The countrywide time in Zimbabwe is
Central Africa Time (CAT)
.
As in many countries, there is no daylight savings time in Zimbabwe.
Related to Greenwich Mean Time, there's the same difference of 2 hours all over the year.
Sunrise and sunset
Population
Life expectancy females:
Ø 63.9 years
Males/Females:
47.2% : 52.8%
Population pyramid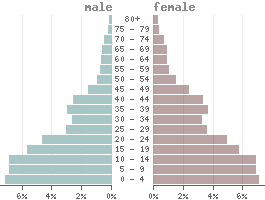 The currency in Zimbabwe is
the Zimbabwe dollar (ZWL).
1 Dollar is divided into 100 Cents.
Status: 05/26/2023
1 US dollar = 321.29 Dollars
1000 Dollars = 3.11 US dollar
The climate in Zimbabwe
In Zimbabwe, as in all equatorial countries, there is a tropical climate. Unlike in Europe or the USA, there is almost no difference between the seasons. The daylight hours vary little, and the temperature differences between summer and winter are also lower. Depending on the season, the average daytime temperatures range between 23 and 31 degrees. In some parts of the country, the temperature rises to 36 °C. In the colder months, and depending in the region, the temperature drops to 8 °C in a month's average.
Average daytime and nighttime temperatures


Languages
Official language:
English
Religions
| Religion | Distribution |
| --- | --- |
| Apostolic Christs | 38.0% |
| Pentecostals | 21.1% |
| Roman Catholics | 8.4% |
| other Protestants | 16.8% |
| other Christs | 8.4% |
| nondenominational | 6.1% |
| other | 1.2% |
more...
Economy
According to the definition from the International Monetary Fund (IMF), Zimbabwe is a
developing country
because of its lower economic performance. Zimbabwe is regarded as a so-called
pariah state
because of its politics and unwillingness to cooperate with the UN.
In terms of revenues, it still ranks 175th in the world and, with an
average annual income
of 1,530 USD is one of the lower middle-income countries.
Land use
| | |
| --- | --- |
| 42% Agricultural areas: | 163,650 km² |
| 45% Forest: | 176,194 km² |
| 1% Water areas: | 3,910 km² |
| 13% Others: | 50,916 km² |
more...
Transport
| | |
| --- | --- |
| Roadways: | 97,267 km |
| Railways: | 3,427 km |
| Waterways: | 223 km |
| › Airports: | 3 |
Most important cities
| City | Region | Population |
| --- | --- | --- |
| Harare / Capital | Harare | 3,121,000 |
| Bulawayo | Bulawayo | 653,000 |
| Chitungwiza | Harare | 357,000 |
| Mutare | Manicaland | 262,000 |
| Kwekwe | Midlands | 99,000 |
| Gweru | Midlands | 92,000 |
| Kadoma | Mashonaland West | 79,000 |
| Masvingo | Masvingo | 76,000 |
| Chinhoyi | Mashonaland West | 62,000 |
| Marondera | Mashonaland East | 57,000 |
| Norton | Mashonaland West | 52,000 |
| Chegutu | Mashonaland West | 47,000 |
| Bindura | Mashonaland Central | 37,000 |
| Zvishavane | Masvingo | 36,000 |
| Victoria Falls | Matabeleland North | 36,000 |
| Hwange | Matabeleland North | 33,000 |
| Redcliff | Midlands | 33,000 |
| Rusape | Manicaland | 29,000 |
| Chiredzi | Masvingo | 28,000 |
| Beitbridge | Matabeleland South | 26,000 |
| Gokwe | Midlands | 19,000 |
| Chipinge | Manicaland | 19,000 |
| Gwanda | Matabeleland South | 14,000 |
| Mashava | Masvingo | 13,000 |
| Chivhu | Mashonaland East | 10,000 |
| Shamva | Mashonaland Central | 10,000 |
Political indicators
(Based on the "Worldwide Governance Indicators" project of the World Bank)
| | |
| --- | --- |
| Political stability: | ◈ |
| Rule of law: | ◈ |
| Effectivity: | ◈ |
| Regulatory quality: | ◈ |
| Voice accountability: | ◈ |
| Death penalty: | constitutionally allowed |
Existing trade agreements
Alliances