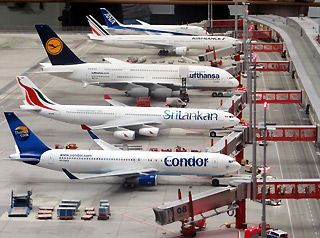 The 16 largest airports and airlines in Kenya
Further information is provided on the 16 biggest airports in Kenya. At Jomo Kenyatta International Airport alone, 39 airlines operate and serve flights to and from 64 destinations.
Out of the twelve airlines of the country we have listed biggest 8. Kenya Airways is leading here with a total of 53 flight destinations.
›
Transport + infrastructure in Kenya
›
The largest airports worldwide
Back to overview: Kenya
The 16 biggest airports in Kenya
Freight volume
In 2021, a total of 299.59 million ton-kilometers (= total mass transported in tons multiplied by kilometers traveled) of cargo was moved by air in Kenya.
The biggest airlines based in Kenya
The largest airline in the country with scheduled passenger traffic and in terms of fleet size is Kenya Airways. In 2021, it carried 2.20 million passengers. It currently has a fleet of 38 aircrafts. The main airlines for civil passenger traffic in Kenya are:
| IATA | Name | Callsign | Fleet size | Destinations |
| --- | --- | --- | --- | --- |
| KQ | Kenya Airways | Kenya | 38 | 53 |
| F3 | Safarilink | Safarilink | 14 | 18 |
| FE | 748 Air Services | 748 | 12 | 28 |
| RRV | Mombasa Air Safari | Skyrover | 9 | 13 |
| P2 | Airkenya Express | Sunexpress | 9 | 12 |
| OW | Skyward Express | Skyward | 8 | 8 |
| 2T | Timbis Air | Timbis | 8 | n/a |
| JM | Jambojet | Chui | 6 | 8 |